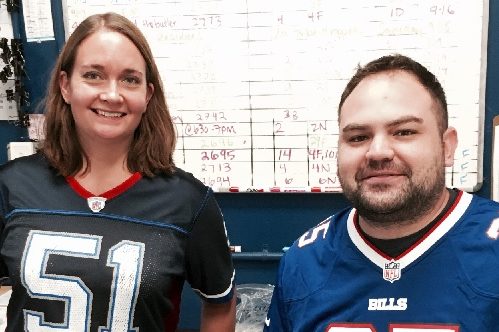 Sample analysis is typically mandatory. Whether it's for the purpose of disposal, remediation, or personal air monitoring, it's rare for samples to be generated and submitted because the results would be interesting, poignant, or cool. Paradigm's role of providing data of the highest quality is often the critical piece to the advancement of a project. In that situation, time of almost always of the essence and our ability to help is twofold.
Of course our industry-leading turnaround time gets the data to the customer quicker than most other laboratories. Our rush turnaround in the chemistry lab can be as fast as a same day turnaround and our asbestos laboratory has been known to return sample data in as little as 6 hours! But there are other ways we add convenience to purchasing habits and that has to do with sample pickups! We have a series of personnel that stop by job sites, that go to office buildings, and even meet at Thruway exits to accept samples. One such staff member is Mike Petterelli, who serves Central New York.
Mike is a 20 year veteran of the environmental industry and therefore is extensively knowledgeable. He likes long walks on the beach, fine dining, and picking up samples from his customers. Mike also enjoys helping clients complete Chains of Custody, giving out pricing, and providing advice on what tests would be helpful for their objectives. He, like his coworkers, is a font of information that he shares on a regular basis to help his customers solve problems.
Paradigm is pleased to play a role in project work and we are serious about our commitment to our customers. We consider ourselves to be teammates and work hard to help our clients achieve their goals. For more information on sample pickups, please contact your Paradigm service representative!